A weekend exploration of spiritual practice through worship and song.
Thank you for your interest. Registration for this event is now closed
                        SAVE THE DATE - LOS ANGELES, CA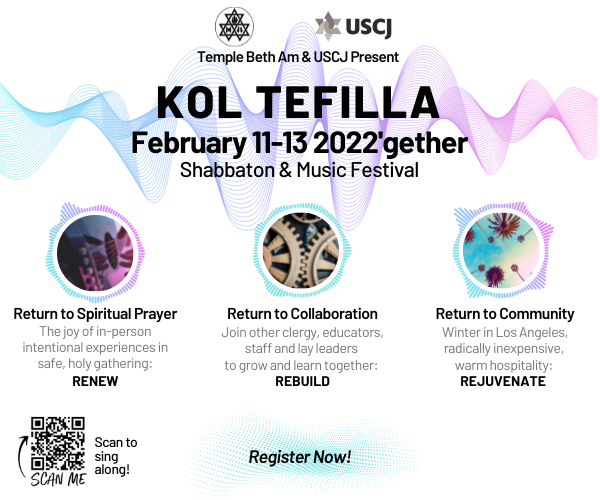 The full Shabbaton schedule can be found here - Highlights are below
As much of the Shabbaton as possible will be held outdoors.
Thursday - Pre-Shabbaton
Thursday night Mishmar 7pm – learn, listen, schmooze and sing with our Sovev leaders the tunes that we will use on Friday night – led by Rabbis Josh Warshawsky and Rebecca Schatz, with tunes from Nava Tehila, Deborah Sacks-Mintz, Rabbi Micah Shapiro, Joey Weisenberg and more
Friday
Friday morning meditation with Rabbi Kligfeld at 10am
Friday afternoon lunch and free-time in the famous Pico-Robertson area
Friday early afternoon Opening Session with Jewish Leaders and Educators around our theme of Subversive Sanctity – Coming Together in 2022
Friday night Shabbat Sovev at 5:15pm featuring Rabbi Josh Warshawsky, in partnership with Rabbis Schatz, Kligfeld, Micah Shapiro, Cantor Chorny, Deborah Sacks-Mintz and Rabbi Amanda Russell
Friday night Shabbat dinner, learning and oneg – learning with IKAR rabbi David Kasher and spirited oneg with more singing together!
Saturday
Saturday morning meditation plus service 9:00-10:15am led by Rabbis Matt Shapiro and K'vod Wieder
Saturday morning services "Hafukha" 9:30am – turning things upside down! Have you ever wished that the beauty of p'sukei was better attended and more robust? We've got you covered! Beginning with Musaf and ending with a harmony-rich and kavannah filled P'sukei D'Zimra – led by TBA Rabbis Kligfeld, Schatz, Cantor Chorny and Deborah Sacks Mintz
Saturday afternoon workshop sessions to explore elements of prayer, leadership, spirituality, community building, etc (teachers such as Rabbi Matt Shapiro, Rabbi Sam Blustin, Rabbi Rebecca Schatz, Deborah Sacks-Mintz)
*Saturday evening concert (FLIER INCLUDED AT BOTTOM) with the most influential Jewish musicians of our day: Chava Mirel, Elana Arian, Deborah Sacks-Mintz, Rabbis Yosef Goldman, Ariel Root Wolpe, Josh Warshawsky and Micah Shapiro. To purchase tickets for this event only, click here.
Sunday
Sunday morning Hama'alot service with TBA Rabbis Kligfeld, Schatz and Shapiro, Cantor Michelle Stone, Rabbi Jonathan Bubis and Rabbi Amanda Russell
Sunday late-morning brunch with interdenominational panel "Subversive Sanctity" in conversation with reform rabbi Jonathan Aaron, modern-orthodox clergy Rabbanit Alissa Thomas-Newborn and conservative rabbi Rebecca Schatz, moderated by Rabbi Adam Kligfeld. To purchase a ticket for this event only, or a package for this event and the Saturday night concert, click here.
PLEASE NOTE:  February 11-13, 2022 was the best weekend for our amazing group of artists to gather and inspire us. However, due to the Super Bowl being hosted in Los Angeles that weekend, we highly recommend that you register as soon as possible and book transportation and lodging. Availability of accommodations in particular will be severely limited.
If you are in need of assistance, or would like to talk through housing options, please contact Rabbi Rebecca Schatz at Temple Beth Am: rschatz@tbala.org or (310) 652-7353.
REGISTRATION FEES
Standard Participants             US$ 150
TBA Member Participants       US$ 99
Student Participants                US$ 50
The registration deadline for this event is Thursday, Febraury 10 at 5:00pm PST
For inquires after that time, please contact Rabbi Rebecca Schatz at Temple Beth Am (310) 652-7353.
TIMING
Prior Kol Tefilla Shabbatonim have begun with optional programming as early in the day as approximately 10am on Friday and have ended around 1:00pm on Sunday. A full conference schedule can be found here.
TEMPLE BETH AM's COVID POLICY
Safety is a top priority and Temple Beth Am has lots of outdoor spaces to utilize with open air tents and heating lamps. All components to the extent possible, including services, meals, etc., will be held outdoors and with strict vaccination and masking policies.
COVID Policies for Temple Beth Am are posted and updated on the synagogue's website: www.tbala.org
As of 1/3/22, the website states:
"IN PERSON SERVICES INDOORS
Everyone MUST provide proof of vaccination. Effective 1/3/22 proof of vaccination includes a booster for those eligible. Masking is required. Register your vaccination card in advance HERE, or present it upon arrival. 
IN PERSON SERVICES OUTDOORS
We welcome everyone to our outdoor Services. Effective 12/25/21 masking is mandatory for all, regardless of vaccination status."
If you have questions or exemptions to discuss, please contact Rabbi Rebecca Schatz: rschatz@tbala.org or (310) 652-7353.
* KOL TEFILLA CONCERT
Saturday, February 12, 2022, 6:45PM PST, both in-person at Temple Beth Am and broadcast virtually. 
Admission to the concert is included in the price of Kol Tefilla Shabbaton registration.
In person tickets for non-Shabbaton participants, and tickets to access the livestream may be purchased for an additional fee.
In person ticket sales will close on Thursday, February 10 at 5:00pm PST. Virtual tickets may be purchased at any time.
Click here for ticket purchase details.
Featured artists include: Rabbi Josh Warshawsky, Elana Arian, Rabbi Yosef Goldman, Chava Mirel, Deborah Sacks-Mintz, Rabbi Micah Shapiro, and Rabbi Ariel Wolpe
Concert sponsors include: Temple Beth Am, Temple Emanuel of Beverly Hills, Sacred Sounds Unbound, USCJ, Rabbinical Assembly, Cantors Assembly, and Hadar's Rising Song Institute
READ about inspiration from prior Kol Tefilla Shabbatonim: 
Can Prayer Be Intentionally Good
Re-imagining Synagogue Worship
Kol Tefilla Takeaways: 7 New Approaches to Prayer 5 New Tunes, Niggunim and More
LISTEN to music that inspires Kol Tefilla.
This page will be updated with details as they become available. You may also find information on the Temple Beth Am website here.
In addition to Rabbi Rebecca Schatz, inquiries may also be referred to Rachel Sisk, USCJ Synagogue Consultant.
When
February 11th, 2022 10:00 AM through February 13th, 2022 1:00 PM
Location
Temple Beth Am




1039 S. La Cienega Blvd




Los Angeles

,

CA

90035




United States
Registration Fee
| | |
| --- | --- |
| Standard Registration | $ 150.00 |
| Temple Beth Am Member Registration | $ 99.00 |
| Student Registration | $ 50.00 |