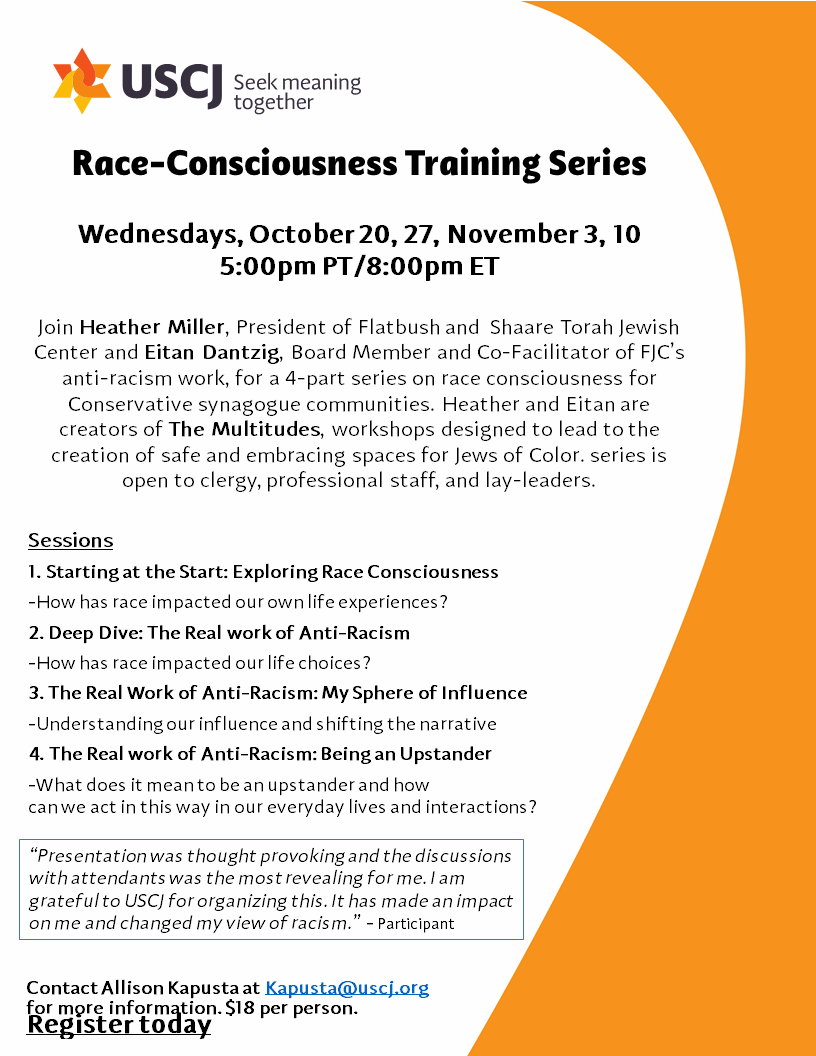 Registration includes all four sessions. 
Overview of Sessions 
Session 1: Starting at the Start: Exploring Race Consciousness
Developing race consciousness - our awareness of the role race plays in our everyday lives - is an essential step to understanding the way we see and experience the world, as well as how others' experiences differ from our own. Join us as we explore:
- How to gain awareness of the way race has impacted our own life experiences 
- What we can learn by understanding each others' similar and differing racial experiences
- How this internal, individual race consciousness relates to our understanding of race, racism, and anti-racism in the external world around us
Session 2: Deep Dive: The Real Work of Anti-Racism
In order to work toward racial equality through anti-racism, we must become aware of the many facets of racial inequality created by racism in the world around us and learn how to choose to intervene. Join us as we explore:
- How race impacts our own and each others' experiences of the world
- The choice as bystander to intervene or overlook racist behavior
- How to be an anti-racist upstander
Session 3: The Real Work of Anti-Racism: My Sphere of Influence
Join us as we explore the foundation of anti-racist work: understanding where we have influence and how we can navigate those spaces and use our influence to shift the narrative.
Session 4: The Real Work of Anti-Racism: Being an Upstander
No one wants to be a bystander to racial injustice, but what does choosing to be an upstander instead mean? Join us to explore what being an upstander looks & sounds like (role playing with some common scenarios included!), and how can we be upstanders in our spheres of influence, in our community, and in our everyday lives.
Learn more about Heather Miller, Eitan Dantzig, and The Multitudes HERE. 
When
October 20th, 2021 8:00 PM through November 10th, 2021 9:30 PM