Scroll down for more information about speakers and schedule.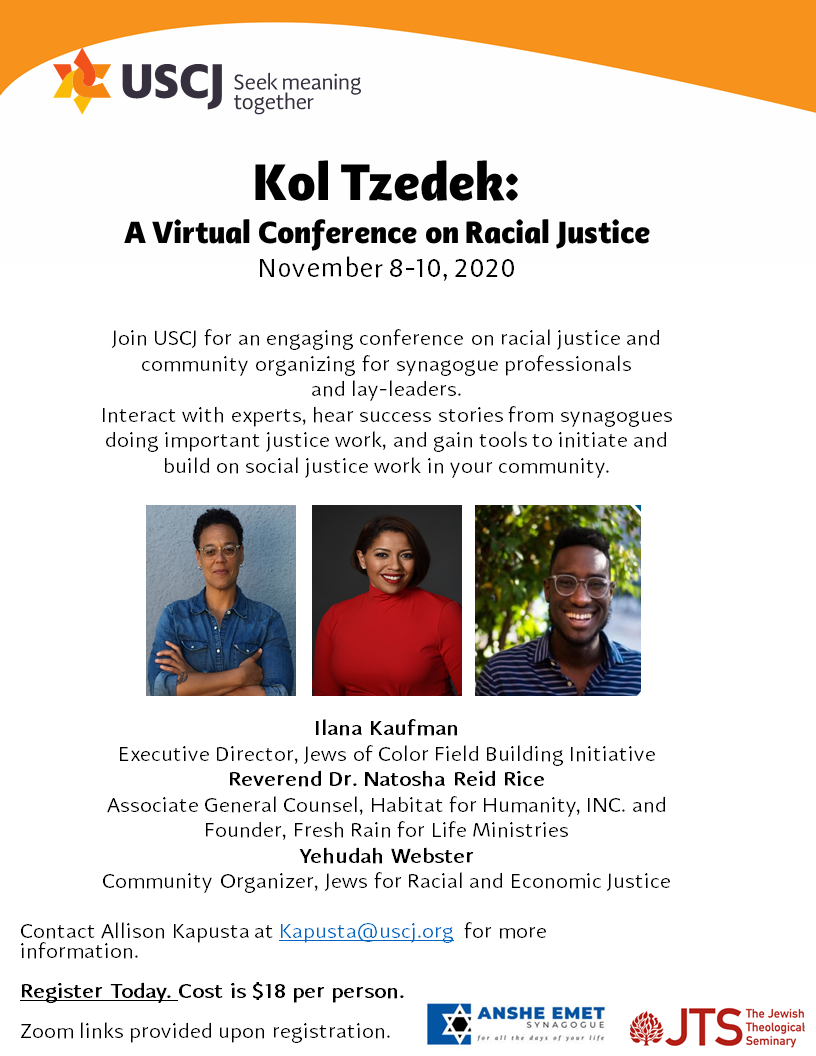 Conference Presenters (in alphabetical order)
Rivka Campbell, Executive Director, Beit Rayim, Vaughan, Ontario, Canada
Rabbi D'ror Chankin-Gould, Anshe Emet, Chicago, IL
Rabbi Noah Farkas, Valley Beth Shalom, Encino, CA
*Ilana Kaufman - Executive Director, Jews of Color Field Building Initiative
Heather Miller, President, Flatbush Jewish Center, Brooklyn, NY
Neil Moses-Zirkes- President, Beth Jacob, Mendota Heights, MN
Kendell Pinkney - JTS Rabbinical Student and Spiritual Director at Ammud: Jews of Color Torah Academy 
*Reverend Dr. Natosha Reid Rice - Associate General Counsel, Habitat for Humanity INC. and Founder, Fresh Rain for Life Ministries 
Rabbi Stephanie Ruskay - Associate Dean, Rabbinical School, Executive Director, Hendel Center for Ethics and Justice, The Jewish Theological Seminary
*Yehudah Webster - Community Organizer, Jews for Racial and Economic Justice
 
*Keynote speaker
More presenters may be added as this conference continues to take shape. 
Schedule Overview 
Sunday, November 8 - 11:00am-1:00pm PT/1:00pm-3:00pm CT/2:00pm-4:00pm ET
Monday, November 9 - 11:00am-1:00pm PT/1:00pm-3:00pm CT/2:00pm-4:00pm ET
Tuesday, November 10 - 11:00am-1:00pm PT/1:00pm-3:00pm CT/2:00pm-4:00pm ET
Participants will be given an opportunity to select several breakout sessions throughout the conference. More information on breakout session sign-ups coming soon. 
When
November 8th, 2020 2:00 PM through November 10th, 2020 4:30 PM